League History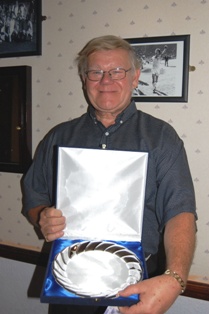 Fred Howells pictured at the 2009 Presentation Disco after being presented with a silver plate for his contributions to the league over the years.
The East London Darts League was originally known as the Mann Crossman League after the Mann Crossman Brewery who formed it. There was approx 16-18 teams in the league at the time. The area covered was from The Tredegar Arms (Northern Boundary) to The British Flag in Custom House (Southern Boundary) and from The Short Blue (Eastern Boundary) to the Roebuck in Whitechapel (Western Boundary). This was disbanded in the mid to late 1960's when Mann Crossman was bought out by Watney.
The current league was established by some of the former members of the old league, Harry Andrews and Wally Aylott leading the change in organisation etc. Many of the trophies were also donated (left behind) by the Mann Crossman Brewery. At the time of the change over all the venues were pubs (due to the fact it was a brewery league) and mainly all in the East London Area (The Short Blue being the exception and were allowed to stay in the new league because of their long history with the Mann Crossman League). The league became known as The East London Men's Dart League now the East London Darts League. Some of the other original teams were The Albion at Upton Park, Streeties at Canning Town, The Resolute at Poplar, The Rose of Denmark in Canning Town, The Bricklayers Arms at Bow, The Brunswick on the Isle of Dogs, The Needle Gun at Roman Road, The George V in Poplar and the Pits Head in Canning Town.
Since the leagues conception London has spread out into Essex and has lost many of the original teams from the Whitechapel and Old Ford areas. However the league has continued to gain and lose teams till the present day. We have also spread our boundaries out as far as Dagenham and Woolwich.
Many teams and venues have come and gone over the years. Many teams have changed venues a number of times, some have left and come back years later, some venues have closed, some have been destroyed and others pulled down BUT THE LEAGUE HAS SURVIVED
Written By Fred Howells Life President